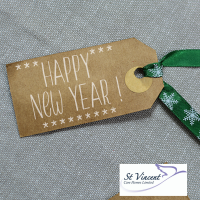 HAPPY NEW YEAR!!
We hope you have enjoyed fantastic festivities with family and friends and are ready for 2020.
When welcoming in a new year we, as human beings, naturally tend to reflect on the past year. And, that's exactly what we have done here at St Vincent Care as well. 2019 saw quite a bit of change across all our sites but change doesn't need to be seen as a negative, it can be a sign of progression too.
So, what is it that has changed?
Well, to begin with we ventured into the world of Social Media. Each of our homes has a Facebook page, St Vincent House Gosport, St Vincent House Southsea, Magnolia House and Eden House, where we showcase what's been happening at each home. And we also have a company Facebook page to give an overview of all four homes in one place.
One of our longest serving care assistants, Mo, retired after working for us for over 20 years. And, our Registered Manager, Irene, also retired. Both worked at St Vincent House in Southsea and we wish them all the very best.
We welcomed in Kelly to take over as Manager from Irene. Kelly has since gone on maternity leave, so now we have Kirsty covering her leave as Acting Manager. We wish Kelly the best of luck with the much-anticipated birth of her baby, and we wish Kirsty all the best on her new venture with us over the coming months.
In our Gosport home we recruited an Activities – Coordinator, Debbie, who has put on some great seasonal parties for the residents and their friends and family, as well as bought in some fantastic entertainers who have really got our residents up and moving to the music. I think the biggest hits though have been when either Tala the cat or Dora the dog come to visit from Pets As Therapy, and when the children of Jiggy Wrigglers come along to a special Intergenerational Jiggy Vintage session with our residents.
Over on the Isle of Wight, in our home, Magnolia House, the office has been moved creating more space for Ros and her admin team to work effectively. And in Eden House, plans for renovation works are underway to create a bedroom with a view of the garden, and extra communal areas giving our residents a little more choice.
So, as you can see, we have been very busy and there is no sign of slowing down just yet. Ultimately, our aim is to provide the best possible environments and way of life for all our residents and in order to achieve that, sometimes change is necessary.
Cheers to the New Year! We hope 2020 treats you well.