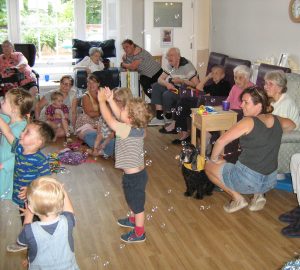 Our home St Vincent House, Gosport has been closing the gap between generations by hosting musical sessions for our residents and pre-school children, along with their parents / carers, from the local community.
Our residential and dementia care home on Forton Road regularly welcomes in Sandra from Jiggy Vintage of Jiggy Wrigglers, Lee on the Solent, Gosport and Stubbington to lead the sing-along groups for the residents and children.
The Jiggy Vintage intergenerational sessions, a collaboration organised by Activities Co-ordinator Debbie Warford, are designed to enhance the mood and mindset of both generations, and to engage everyone from the youngest to the oldest through the use of music, singing, instruments and more.
Sandra from Jiggy Vintage said: "I Love that Jiggy Vintage Intergenerational Sessions bring generations together for some fun and gentle movement, and supports memories of the past [for the residents] and the making of new memories for the children and their adults.  Children are encouraged to give out and collect props, and to talk to the residents … it's lovely to see the smiles.  At the end of the sessions I encourage shaking of hands or a hand touch, while I play 'I want to hold your hand'.  This is fully supervised and only for those who want to join in.  We love coming, thank you for letting us join you."
If you happen to be visiting the home while a Jiggy Vintage session is running,  please feel free to come along and join in.  If you have children who you think would benefit from a Jiggy Wrigglers session, please contact Sandra via email at sandra@jiggywrigglers.com or alternatively find her on Facebook www.facebook.com/Jiggywrigglersleeonsolent/