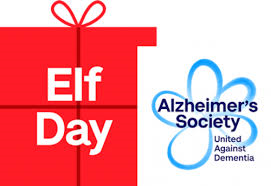 All four homes that make up St Vincent Care Homes Ltd, took part in Elf Day this year raising money for the Alzheimer's Society.
We are proud to announce that we raised £150.
Thank you to all staff that came to work dressed in their best elf attire, to all those who donated and to all our activities co-ordinators who, organised their days. It was brilliant to see so many involved, including the residents, many of whom wore festive home made elf hats!

There is still time to donate – our target was £250 and it would be simply amazing if we could reach that! Go ahead and visit our JustGiving page…no amount is too small and we are grateful for every single penny.